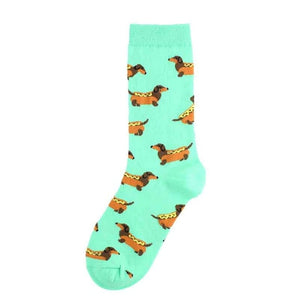 Hot Dogs Dachshund Socks
Regular price $4.48 $12.99 Sale
Hot Dogs Socks have four-legged hot dogs, depicted as hot dogs, that will keep two-legged lovers of hot dogs and hot dogs cool.  We would ask if you follow us, but since only the hottest hot dogs wear these hot dog socks, we already know that we're on the same page.

To be frank(furter), dachshunds are simply adorable thanks to their floppy ears, long snouts, and even longer bodies.  There's a profound majesty to their pose while they maintain an air of tremendous silliness. We couldn't think of a better dog to regularly relish with these Hot Dogs Socks.

Young or old, these Hot Dog Socks show that you're committed to your love of the dachshund.  Sure, the name literally translates to "badger dog" from its German name, but we don't feel like we have to badger you about these gems.  So grab your spatula, fire up the grill, and wear these socks proudly at your next BBQ.
Composition: Cotton polly blend
Size: Universal